Radio Ceylon: The Lankan queen of airwaves
NITN | @notintownlive | 24 Sep 2022, 08:43 am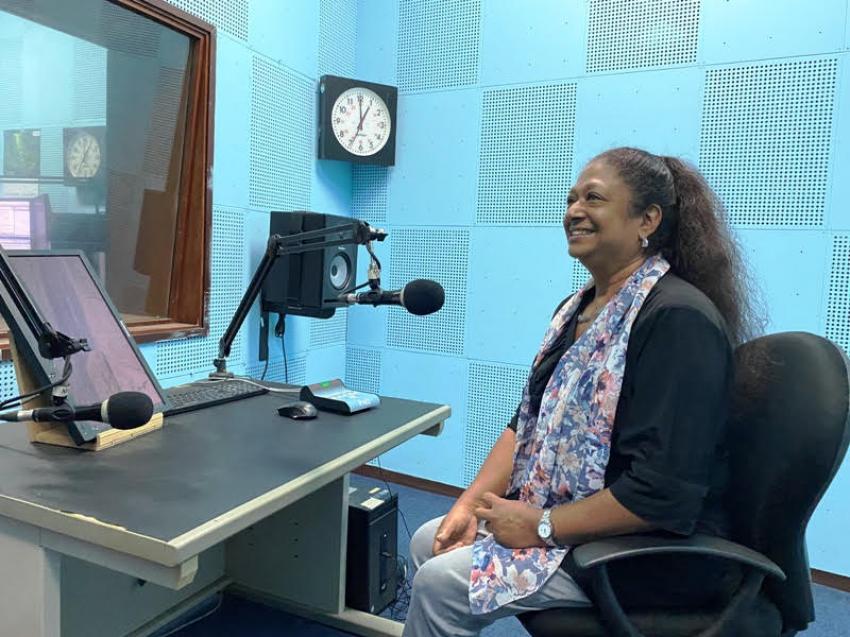 Radio Ceylon
A glimpse inside the studio of Sri Lanka Broadcasting Corporation.
Away from the world of social media and internet, there was an age when listening to Radio Ceylon became a part of everyday lifestyle in several South Asian countries. Supriyo Hazra journeys through the memory lane at the Sri Lanka Broadcasting Corporation building in Colombo recently.
When you walk down the long verandah of Sri Lanka Broadcasting Corporation building in Colombo, nostalgia engulfs you. You witness the key highlight moments in the history of the station as depicted through the various pictures adorning the walls.
Out of all the pictures present, there is one image which drew my attention where I could see the just departed Queen Elizabeth II addressing the public from a studio in Radio Ceylon in the year 1954.
The picture itself reflected the glorious past of the iconic Sri Lankan radio broadcaster which had not only won hearts in its own nation but even in India and Nepal.
Far away from the world of social media and internet, Radio Ceylon, as it was popularly known, remained a backbone for entertainment for a vast population across South Asia in the 1960s and 70s. Listening to the channel, radio listeners found peace, as most of the nations had gained independence only a few decades ago after a hard fought freedom struggle against the British.
It was a time when radio touched the hearts of audiences in Sri Lanka with its vast collection of records and some talented announcers whose mellifluous voice and charismatic presentations made the programmes lively.
Unlike today, music, bulletins and beloved voices during those era travelled the air waves to reach millions of homes and offices by traversing boundaries.
Like India, Radio Ceylon also has its foot deeply rooted to the country's colonial past. On December 16, 1925, the radio service was established during the British Empire and it functioned as a news service for the Allied forces during the Second World War.
After Sri Lanka gained independence, it came under the governance of the Ceylon government.
The Sri Lankan Broadcasting Corporation took over it in 1972 after it was established but by that time the broadcaster from the tiny Island Nation had made a huge impact in the region, creating a huge fanbase not only within its border but beyond as well.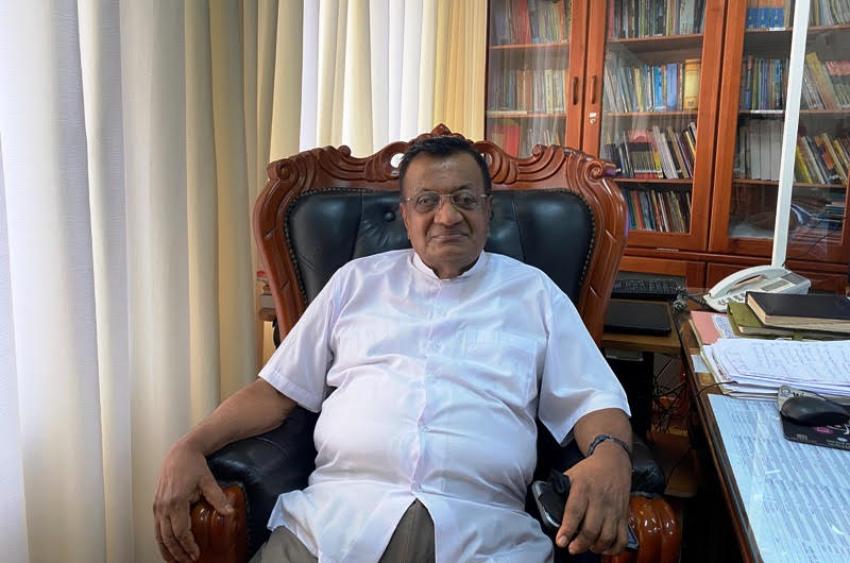 Hudson Samarasinghe is the current Chairman of the iconic Sri Lanka Broadcasting Corporation (SLBC)
Hudson Samarasinghe, Chairman, Sri Lanka Broadcasting Corporation (SLBC), said: "I remember in the 1970s, lots of Indian tourists used to stop the bus near the SLBC and come to see the popular presenters who worked here."
"Sometimes, I have even seen people taking away soil from our premises. Later, I came to know that these people considered our station as a holy place as early morning Bhajans and such devotional songs were played here," he said.
Apart from the scintillating performance on the announcer's seat by some iconic radio presenters, it was the vast collection of its songs, which included a wide array of Hindi music, that made Radio Ceylon a heartthrob among music lovers in Nepal and Pakistan, especially in India.
Recollecting the impact created by Radio Ceylon in Nepal, one of its listeners Tumita Hazra, 66, said: "I was in my school at that time and I can still remember we used to listen to it when my father left for his chamber. The shows had a freshness in them and we loved the presentation style of the anchors. I can say that people of my generation will never forget this beautiful radio station from Sri Lanka which kept us entertained during our teen days."
Another old listeiner of the service, Kishore Kumar Mallick, 67, a resident of the East Indian city of Kolkata, said he first listened to the songs of Beatles by tuning to Radio Ceylon in his school days.
"I am a guitarist by profession and I still remember how Radio Ceylon made a strong impact on me during my teen days.It was through this station that I first came to know about Beatles and rest you can say is now a part of my life journey," he said with a touch of nostalgia gripping over him.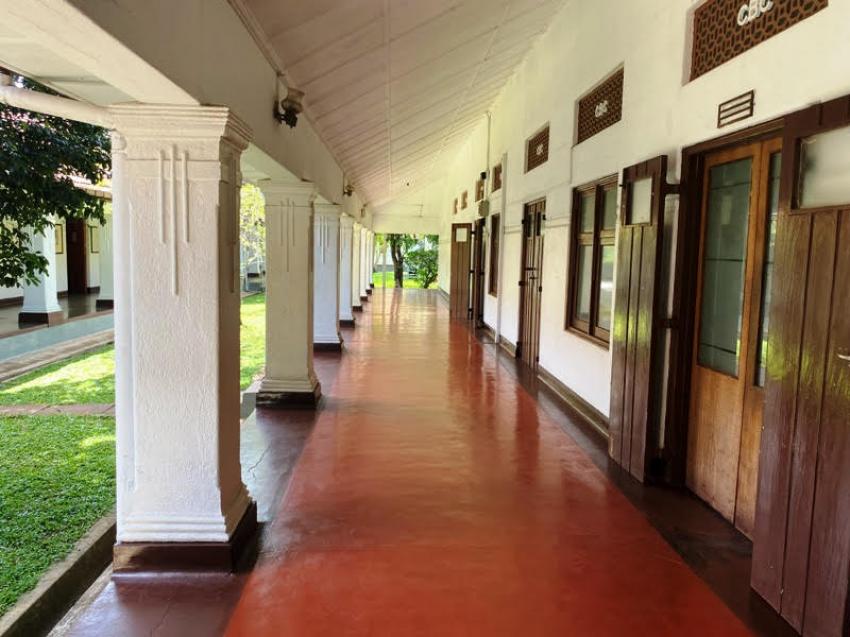 A glimpse of the verandah of the Sri Lanka Broadcasting Corporation where several images reflecting the glorious historical past of the station could be seen
It is believed that one of the key reasons behind the success of Radio Ceylon in the paradigm of South Asian airwaves was its vast library and collections of music.
During my visit to Sri Lanka Broadcasting Corporation, I met Subhashini De Silva, Record Librarian, who took us to the Hindi language library and as a perfect guide narrated the story of the radio station in detail.
"There are five libraries within the SLBC which also include one for the archives," she explained to IBNS speaking in fluent Hindi.
"Four libraries are dedicated to languages like Sinhalese, Hindi, English and Tamil," she said.
She said in the Hindi language library, songs of other Indian languages, like Bengali and Sindhi, among others are also present.
"Our Hindi broadcasting library helps in the performance of the Asia Hindi Service," she said.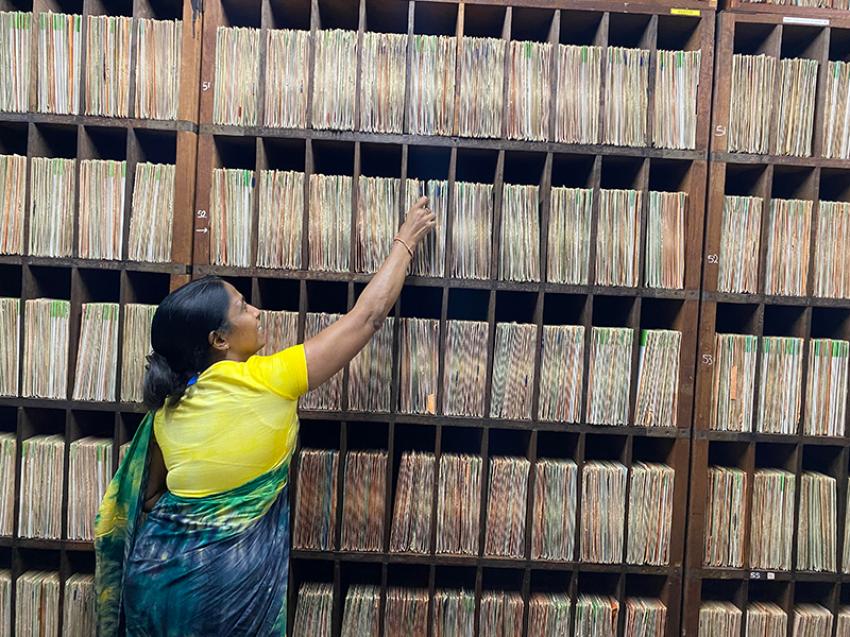 Subhashini De Silva, Record Librarian, showing old records at the Hindi Language library of the station
Subhashini De Silva also showed an archive of the card service which is present inside the Hindi Library and said: "We are still keeping it and will try to preserve it in future as well."
Battle of air waves: AIR vs Radio Ceylon
Radio Ceylon gave a tough competition to All India Radio from the 1950s to the 1970s, catering Indian listeners the best experience they truly wanted to cherish.
Radio Ceylon, without any doubt, dominated the South Asian airwaves during that period.
Moving down the pages of history, it can be seen that Radio Ceylon had enjoyed a periodic rise during the 50s to 70s in India due to the restrictive policies of the then Information and Broadcasting Ministry (in the 50s the minister was BV Keskar).
Calcutta University's Department of Museology associate professor Mahua Chakrabarti wrote in her observation: "For several years commencing in 1952, 'All India Radio' (AIR) stopped broadcasting film music because BV Keskar, the then Minister for Information and Broadcasting, under whose charge AIR fell, decided film songs had become vulgar, erotic and Westernized. He first imposed a ten percent quota on film music and, after discussions with the 'Film Producers Guild of India' became futile, AIR stopped broadcasting film music altogether for several years. AIR's prohibition, however, did not have an effect on the genre's popularity, as people tuned to 'Radio Ceylon' to listen to film music."
"Radio Ceylon was at the right place and the right time," Ameen Sayani, the celebrated radio anchor, whose compelling voice was among the many that 'Radio Ceylon' carried to listeners in India, was quoted as saying by Mahua Chakrabarti in her write up.
So, when you visit Radio Ceylon, during your stay in Sri Lanka, do not forget to walk down the long verandah and see all the pictures framed on the walls, telling stories of the past about a station which not only created history but wrote a golden era of broadcasting with its performance.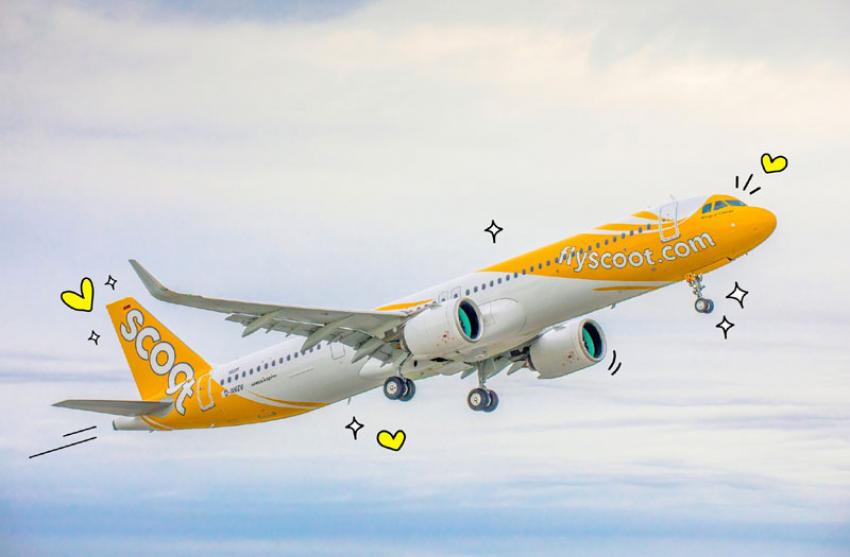 Scoot will steadily increas ...
Singapore/NITN: Scoot, the low-cost subsidiary of Singapore Airlines (SIA), announced that it will steadily resume flights to and from China buoyed by further relaxation of border restrictions imposed during the pandemic.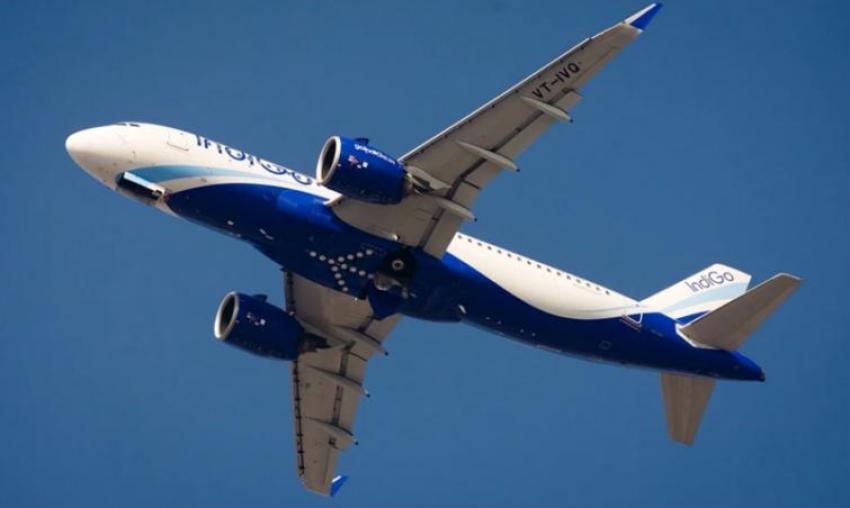 IndiGo introduces exclusive ...
Indian carrier IndiGo has announced exclusive flights between Bengaluru to Kolhapur, and connecting flights via Bengaluru from Coimbatore to Kolhapur, effective Jan 13, 2023.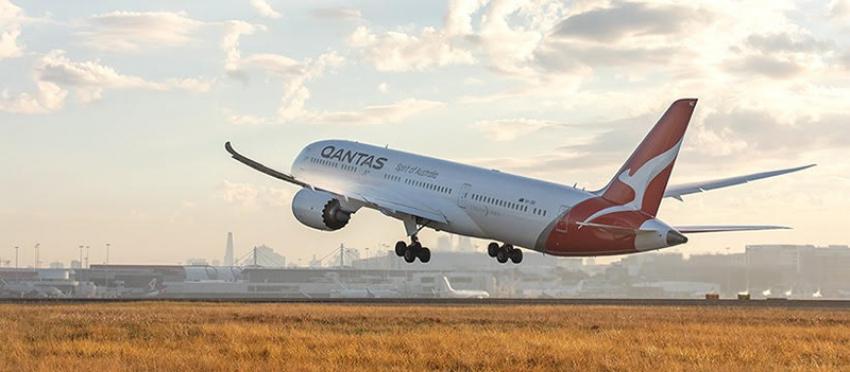 Qantas connects Australia w ...
Qantas, the national airline of Australia, created history on Sep 14 when QF 67 took off from Sydney's Kingsford International Airport to touch Bengaluru, the southern Indian city famously known as 'The Silicon Valley of The East', completing the non-stop flight in less than twelve hours.