Snorkelling in Australian waters opens up an array of underwater treasures
NITN | @notintownlive | 12 Apr 2022, 09:20 am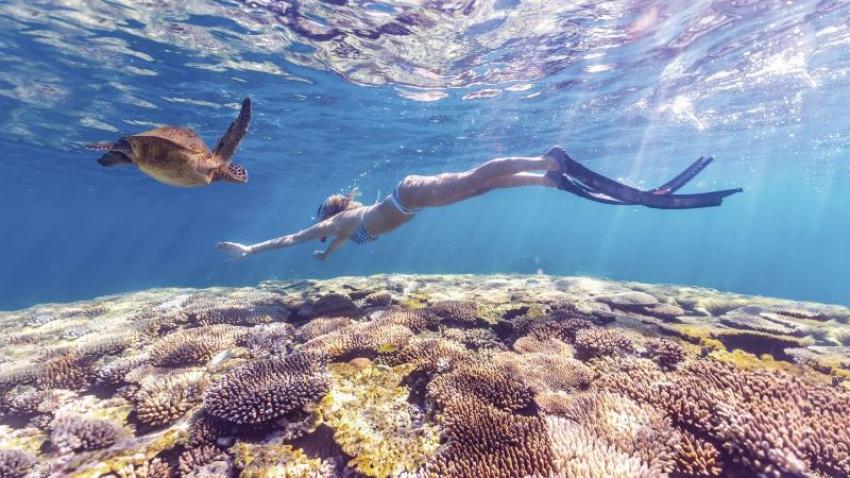 Australia-Snorkelling
Canberra: Australia's amazing natural scenery isn't limited to what you see above the ground – once you glance beneath the surface of our coastal waters, you'll be treated to vibrantly coloured corals, tropical fish, massive rock formations, and historic shipwrecks. If you're itching to take a look under the water on your trip to Australia, try jumping in to one of these incredible snorkelling spots.
Best Spots to go snorkelling in Queensland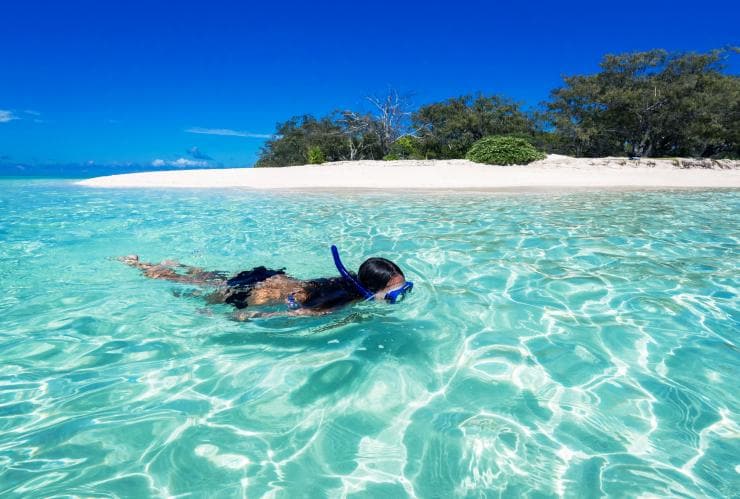 The Low Isles
The holiday town of Port Douglas in far north Queensland is one of the best places to access the Great Barrier Reef.
Just 15 minutes away by boat is the Low Isles, where you can snorkel among corals beside the local population of sea turtles.
You can visit the Low Isles on a day trip or even a half-day trip with Reef Sprinter if you're short on time.
Green Island
Just a 45-minute catamaran ride from Cairns is Green Island – a 6,000-year-old coral cay that holds the Great Barrier Reef's only rainforest, along with over 120 native plant species and colourful coral.
An Ocean Free tour carries a maximum of just 25 guests and sails to an exclusive mooring.
Grab your goggles to see a stunning coral garden below the surface. Nearby are unique coral cays to be discovered.
Hop aboard an Ocean Freedom tour to explore Upolu Cay Reef and Outer Edge Upolu Reef.
When conditions allow, natural sand banks appear above the water for the ultimate castaway experience. You can visit Green Island on a day trip, or stay overnight at Green Island Resort.
Michaelmas Cay
Just off the coast of Cairns is Michaelmas Cay, a small sand island only 360 metres (394 yards) long and 50 metres (55 yards) wide.
On a day trip with Ocean Spirit Cruises, you can visit the cay to snorkel the surrounding reef (which is known for having an abundance of giant clams) and learn about the 23 species of seabirds that use the island as a habitat during migration.
Heron Island
Heron Island, which is accessible via boat transfer from Gladstone, offers something special for visitors looking for an amazing snorkelling experience.
Here, you can gear up on the beach then walk straight into the ocean to spot bright blue starfish and giant sea cucumbers.
There's nothing to do but relax around here, so you can spend all day floating over the corals if you want.
Just remember to come in after sunset to watch turtles nesting on the beach.

Best Spots to go snorkelling in New South Wales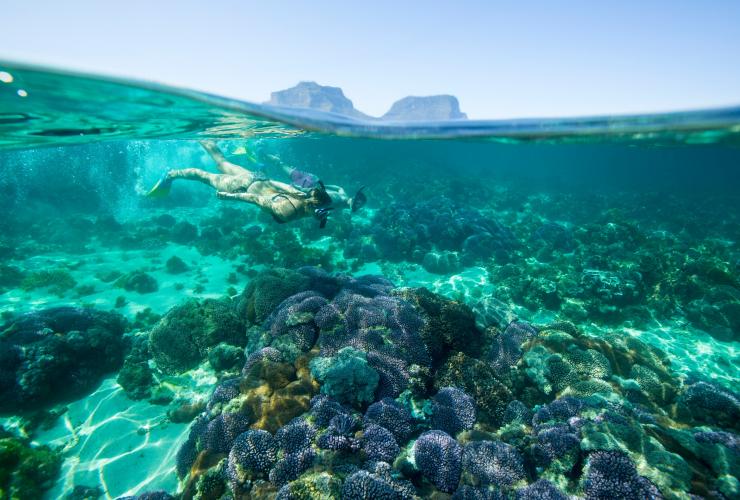 Lord Howe Island
Snorkelling at Lord Howe Island, which is only a two-hour flight from Sydney, is a unique experience.
Not only will you be one of just 400 tourists allowed on the island at any one time, you will also have your choice of snorkelling location just beyond the shore at Lagoon Beach, Ned's Beach, Old Settlement Beach, Erscott's Hole or Blinky Beach. Take your pick.
Julian Rocks
Julian Rocks is a popular snorkelling spot for visitors to Byron Bay, just a two-hour drive south of Brisbane.
Situated within the Cape Byron Marine Park in northern New South Wales, a boat trip out with Byron Bay Dive Centre will allow you to see the clear, shallow waters around Julian Rocks, which are filled with both tropical marine life and animals from the Southern Ocean.
You might even see some dolphins or whales nearby.
Shelly Beach
Just north of the Sydney Harbour Bridge lies the beachy suburb of Manly, home to the calm waters of Shelly Beach.
One can head out on your own, or join an EcoTreasures snorkelling tour to discover more than 200 fish species, including the famous Blue Groper.
Best spots to go snorkelling in Western Australia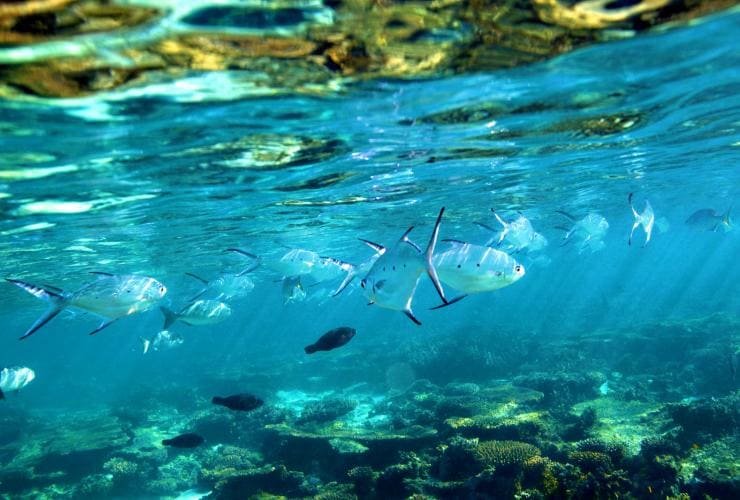 Ningaloo Reef
As Australia's second largest coral reef, Ningaloo Marine Park is the perfect place to go snorkelling.
The reef stretches along 260 kilometres (162 miles) of coastline and is easiest to access from the town of Exmouth, which is just a two-hour flight north from Perth.
With Ningaloo Reef Dive, you can cruise out to the reef and spot some of the 500 species of fish and wide variety of marine life that live in these waters.
Rottnest Island
The marine environment surrounding Rottnest Island includes a huge number of secluded beaches and incredible snorkelling spots.
Popular spots for snorkellers include The Basin, Parakeet Bay, Parker Point, Little Salmon Bay and Little Armstrong Bay.
Busselton Jetty
A 2.5-hour drive south of Perth is the city of Busselton, which features the longest wooden pier in the Southern Hemisphere.
The 1.8-kilometre (1.1-mile) long jetty is home to some brightly coloured coral and fish, so visitors can take a snorkelling tour with Dive Busselton Jetty or do a self-guided exploration of the jetty's marine life.

Best spots to go snorkelling in South Australia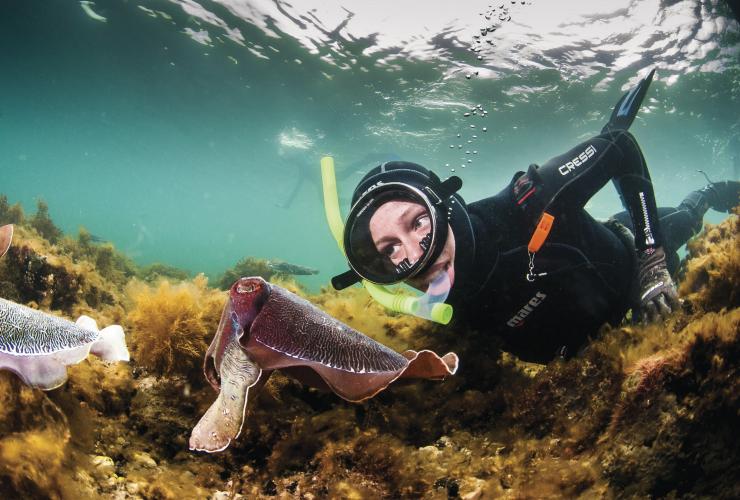 Port Noarlunga
Visitors to McLaren Vale wine region should spend a morning snorkelling in Port Noarlunga.
You'll spot a large variety of fish including zebrafish and old wives as well as sea stars.
Confident swimmers can head out to explore the Port Noarlunga Reef. Built in 1994, the reef trail is part of the Port Noarlunga Reef Aquatic Reserve.
Stony Point, Eyre Peninsula
For a truly memorable experience with some of the sea's most unusual creatures, join the Swim with the Giant Cuttlefish tour in South Australia.
This two-day tour itinerary, which has departures available to book during the cuttlefish migration season in July, is packed with added benefits that include exclusive cuttlefish insights by a marine expert, sightseeing through the wilderness of the Southern Flinders Ranges and hiking along the rugged Alligator Gorge in the Mount Remarkable National Park.
The tour includes return transport from Adelaide and all equipment.
Baird Bay
In the calm waters of Baird Bay, 284 kilometres (176 miles) from Port Lincoln towards Streaky Bay, Baird Bay Ocean Eco Experience will take you snorkelling with resident pods of bottlenose dolphins and inquisitive sea lions in their natural environment.
Snorkelling with the sea lions takes place in a safe shallow area, while the dolphins swim in deeper ocean. Both are suitable for all levels of swimmer.
Image credit: australia.com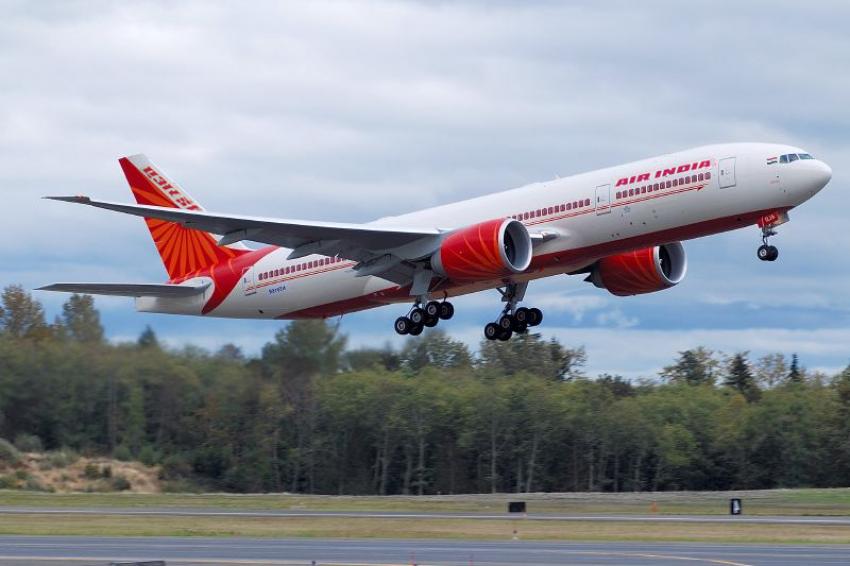 Air India deploys newly ind ...
Gurugram: Air India, a global airline in India, has initiated the deployment of its recently acquired Boeing 777 aircraft to serve all three non-stop routes from Mumbai to the United States.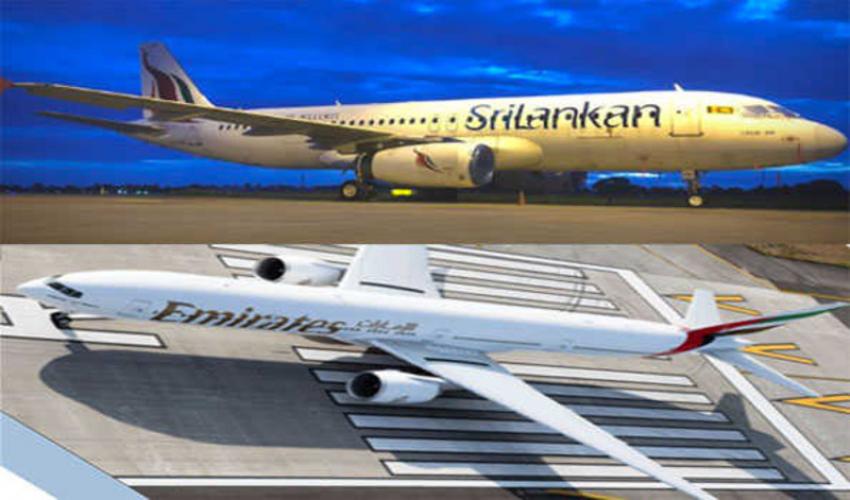 SriLankan Airlines, Emirate ...
Colombo/UNI: SriLankan Airlines and Emirates have entered into a reciprocal interline agreement aimed at bolstering connectivity for travelers.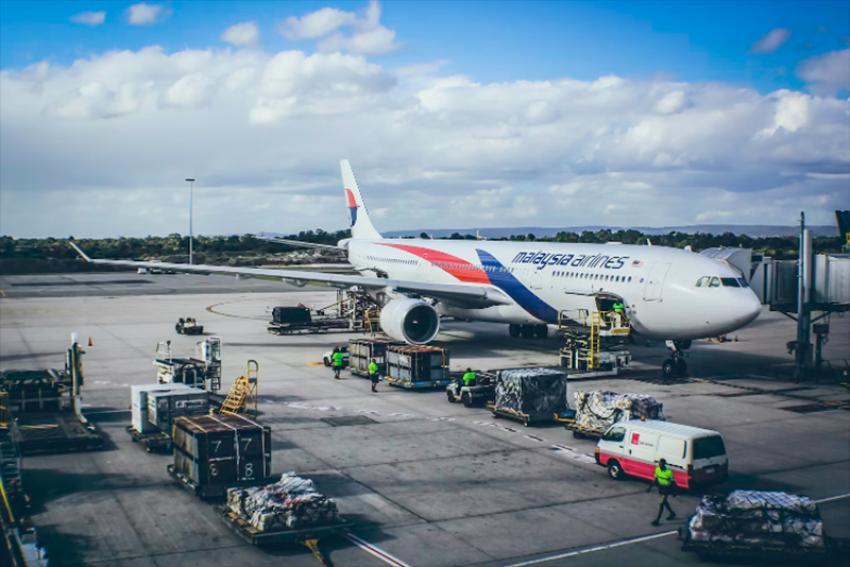 Malaysia Airlines introduce ...
Kuala Lumpur/NITN: Malaysia Airlines is offering introductory fares on their three new services between Kuala Lumpur and the Indian cities of Amritsar, Thiruvananthapuram and Ahmedabad.