Scotland: Free Attractions
Not In Town | @notintownlive | 13 Jul 2017, 09:37 am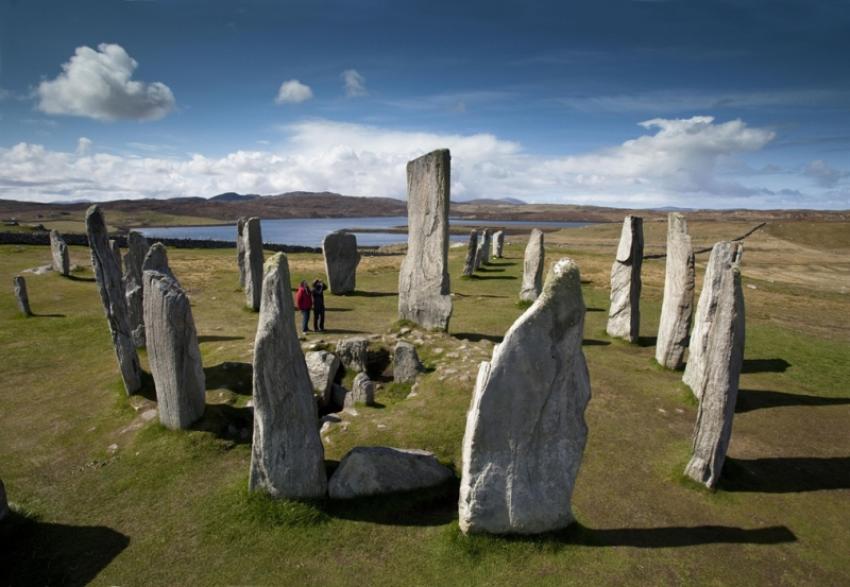 Nothing, nada, zilch. That's how much you'll pay to visit many of Scotland's top attractions. Plenty of them are free to enter, and there's an array of free events and experiences to enjoy too. Explore castles, museums, art galleries and more, all for free, on a day out that won't leave you out of pocket.
When it comes to places to visit, Scotland has some mighty fine options indeed. You wouldn't be surprised if you wanted to experience them all.
So what's on offer? Hear tales of kings and queens, see striking cliff-top castles and discover science's latest inventions. Whether you want to step onboard a Royal yacht in Leith, climb over 240 steps up the National Wallace Monument for views over a National Park or try your hand at keyhole surgery in Dundee, there are countless ways to fill days, weeks and even months at Scotland's attractions.
THE KELPIES AT HELIX PARK
The Helix is an exciting new parkland providing activities such as cycling, walking, watersports and much more. The Helix is also home to The Kelpies, two 30-metre-high horse head sculptures which are a true feat of engineering.
The Helix is a new attraction located between Falkirk and Grangemouth. Described as 'A place for everyone' there is so much to discover.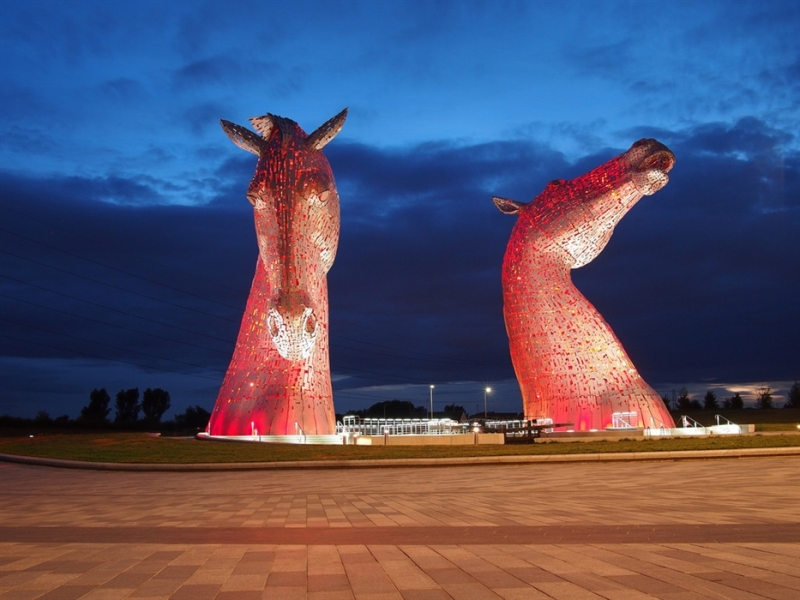 There are currently 500km of connected cycle paths which provide the ideal way to explore the parkland and surrounding area. Discover one of many routes including the 16-mile core route, Helix Around Town Tour (HArTT) starting at The Helix and heading to The Falkirk Wheel, Callendar Park and back to The Helix using cycle ways, towpaths and parkland. The paths are multi-use if you prefer to explore by foot. The Helix is linked by two National Cycle Routes as well as the new John Muir Trail making it incredibly accessible and the ideal base to explore from.
As well as the new Helix canal extension to the Forth & Clyde canal allowing far easier access to the canal from the Forth River the Helix also boasts a new lagoon. This lagoon at Helix Park will provide a great opportunity for watersports, including canoeing, dinghy sailing, kayaking and even wakeboarding.
The Helix is also home to the magnificent Kelpies which are the world's largest equine sculptures. Designed by Scottish sculptor Andy Scott, these sculptures are each made with 300 tonnes of structural steel and are monumental tributes to the horse power heritage that was vital to the early industries of central Scotland.
You can enjoy The Kelpie Experience while you are there with a guided tour. The brand new visitor centre is now open 10am – 5pm 7 days a week. Pop in to browse the gift shop and sample some tasty home baking or lunch.
Nearby attractions include Callendar House in Falkirk and the Falkirk Wheel. The town of Falkirk is only 2 miles from The Helix and here you will find a variety of shops, eateries and all local amenities.
Parking
The Helix Car Park and The Kelpies Car Park are both open 24 hours a day, 7 days a week. This may be subject to change. Charges apply for The Kelpies car park apply:
Kelpie Car Park charges, 10am - 5pm, everyday.
Cars: £2
Motorcycles: £1
Larger vehicles: £4
FREE parking is available at the Helix Park car park and also at Falkirk Stadium (a short 2 minute walk across the road from Helix Park) all year round, except on match days involving Falkirk Football Club. It may be worthwhile checking Falkirk Football Club's fixtures listbefore departing for The Helix and The Kelpies.
The Visitor Centre at The Helix
Open 10:00am to 5:00pm, 7 days a week.
Plaza Cafe
The Plaza Café is open seven days from Easter to October and serves a selection of sandwiches, snacks, hot and cold drinks, and ice creams for warmer days.
Toilets
The Helix Park Toilets are located at the Plaza Cafe. The normal opening hours are 10:00am to 5:00pm. The toilets at the Plaza Cafe in Helix Park will remain open until 8:00pm during the summer season.
NATIONAL MUSEUM OF SCOTLAND
The National Museum of Scotland is one of the Top 10 UK visitor attractions, and in the Top 20 of the most visited museums and galleries in the world.
Fresh from a £47 million redevelopment, the museum houses a spectacular array of over 20,000 fascinating artefacts. Our magnificently diverse collections will take you on an inspirational journey through the history of Scotland, the wonders of nature, world cultures and the excitement of science and discovery – all under one roof.
It's closed on Christmas Day - 25th December.
DUNDEE CONTEMPORARY ARTS
Visit an exhibition, see a film, take a print course and enjoy great food at Dundee's international centre for contemporary arts.
Located in the centre of the city, Dundee Contemporary Arts is a vibrant building with five floors hosting unique exhibitions, world cinema, a café-bar, and a print studio.
Enjoy a coffee in the Jute Café Bar, which turns into one of Dundee's most popular bars in the evening, and browse the centre's shop for a unique selection of jewellery and crafts.
The Visual Research Centre runs a variety of events and exhibitions, and many courses suited for all abilities are run by the Print Studio.
Dundee Contemporary Arts is located just a short walk from the city's main shopping centre and railway station.
THE FALKIRK WHEEL
The Falkirk Wheel is the world's only rotating boatlift, which is used to connect the Forth & Clyde and Union canals in central Scotland.
The Falkirk Wheel is a magnificent, mechanical marvel which has been constructed to 21st century, state-of-the-art engineering. It is already being recognised as an iconic landmark worthy of Scotland's traditional engineering expertise.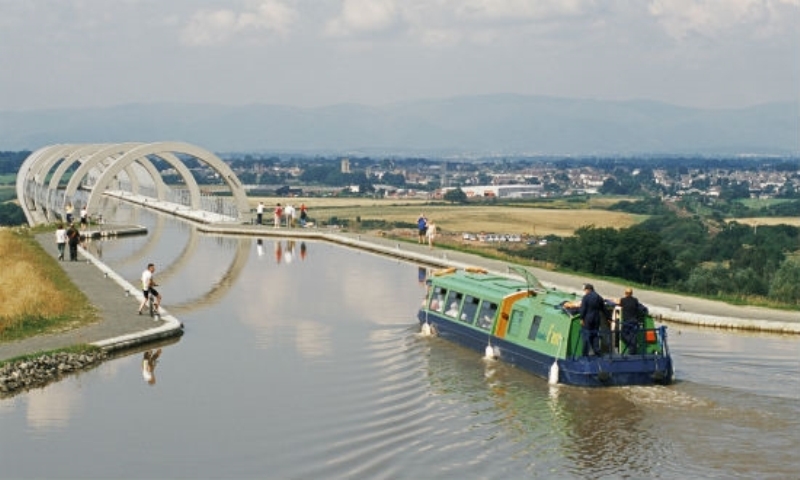 Designed to replace a series of lock gates built in the 19th century - long since demolished and replaced by housing - The Falkirk Wheel is the showpiece of the Millennium Link project where coast-to-coast navigation of the canals has been re-established for the first time in over 40 years.
The Forth& Clyde canal was opened in 1773 and extended from Grangemouth on the River Forth, to Bowling on the River Clyde. The Union (or Edinburgh & Glasgow Union) canal was opened much later in 1822 and operated from Edinburgh to Falkirk with a series of locks connecting the two canals at Port Downie in Camelon. These were demolished years ago and for decades there has been no through traffic on the canals.
Special group rates are available and the visitor centre is open at no cost to sit and view The Falkirk Wheel or have a delicious coffee and a wide variety of quality foods.
Boat trips on the canals can be also arranged at competitive rates. For visitors taking the boat trip, the entire Wheel Experience will last for approximately 60 minutes on a round trip and ascent and descent through the wheel.
GRETNA GREEN FAMOUS BLACKSMITHS SHOP
Steeped in history and magical charm, Gretna Green Famous Blacksmiths Shop is where couples have come to marry since 1754.
The historic Gretna Green Famous Blacksmiths Shop draws you in to its romantic and often dramatic past. Here the Story of Gretna Green unfolds. Why was the romantic lure of Gretna Green so irresistible for young couples of yesteryear and so popular with brides and grooms today?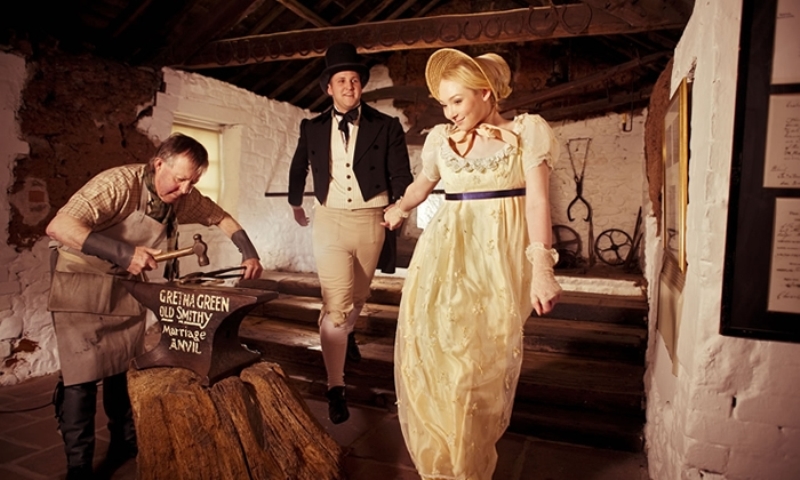 Audio-visual displays bring to life the drama of Gretna Green runaway weddings and there is also a fascinating collection of memorabilia and artefacts from the days when couples crossed the border to take advantage of Scotland's lenient marriage laws. See letters, telegrams and marriage certificates from those who defied their family by running away to Gretna Green.
Enter the actual room where couples, past and present, get married. Touch the famous Anvil, the symbol of romance in Gretna Green. Legend has it that if you touch the Anvil good fortune in affairs of the heart will be yours.
Surrounding the historic Blacksmiths Shop there's a cluster of traditional cottage style buildings. Not only are you taken aback by the scale of the shopping features but the colourful and modern interiors will surprise with stylish displays and stunning features full of character.
Relax in the Sculpture Garden and Blacksmiths Courtyard while children let off steam in the play-park. Enjoy the Scottish countryside in the challenging Courtship Maze, a pair of 20m diameter stone built interlocking wedding bands.
CALANAIS VISITOR CENTRE
This visitor centre beside the world-famous Calanais Standing Stones is home to an exhibition, café and gift shop.
Located in the west coast of Lewis, the 5,000 year old Callanish Stones are famous all over the world.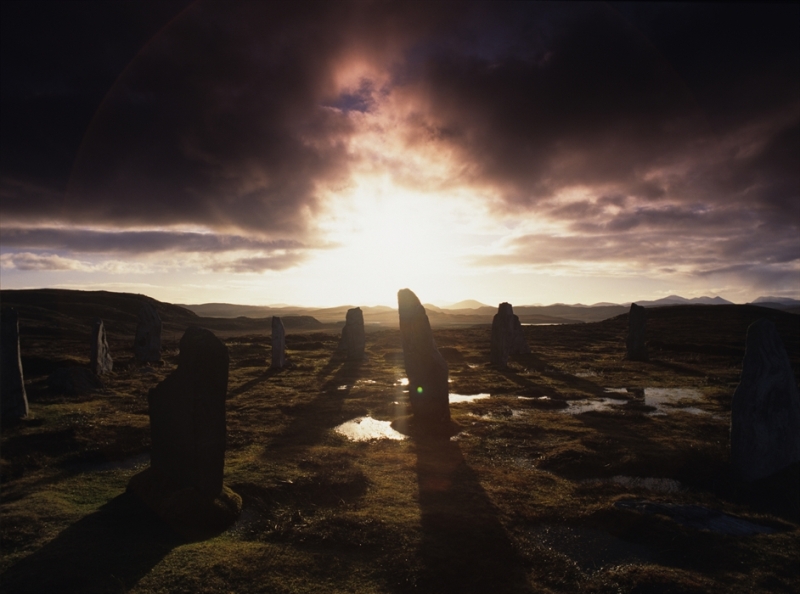 The Calanais Visitor Centre contains an interactive Story of the Stones exhibition, which explores how the standing stones were built and used and what they have meant to people through the centuries. This fascinating walk-through display has graphic panels, models and an audio-visual display with a seating area.
The café accommodates 50 people, with easy access for disabled visitors. You can enjoy tasting a good variety of homemade fare, main meals, soup, sandwiches and home baking.
The gift shop caters for locals and visitors alike and sells Harris Tweed accessories, books, music, postcards and a wide variety of gift items.
Image and Text: www.visitscotland.com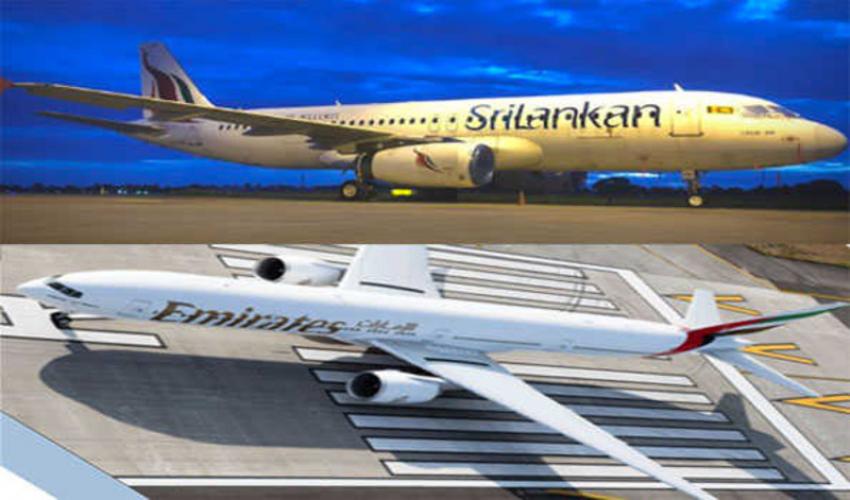 SriLankan Airlines, Emirate ...
Colombo/UNI: SriLankan Airlines and Emirates have entered into a reciprocal interline agreement aimed at bolstering connectivity for travelers.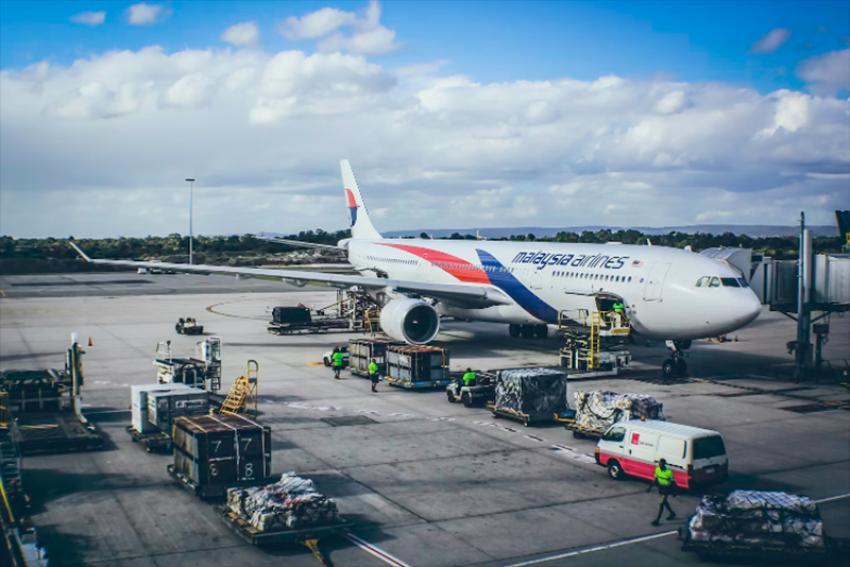 Malaysia Airlines introduce ...
Kuala Lumpur/NITN: Malaysia Airlines is offering introductory fares on their three new services between Kuala Lumpur and the Indian cities of Amritsar, Thiruvananthapuram and Ahmedabad.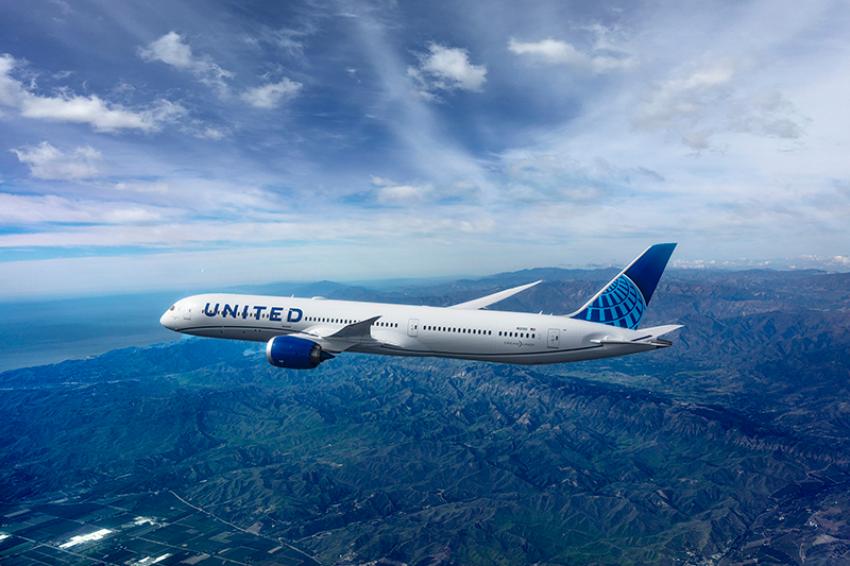 United Airlines increases n ...
New Delhi: United Airlines has announced an increase in service between New Delhi and New York/Newark, with a doubling of flights from once to twice daily during the winter season 2023/24.